Visit our new cafe and dessert bar at the Haarlemmerdijk 108A in Amsterdam!
Workshops
Do you want to awaken the baker in you? Share your passion for baking with like-minded people? Or always wanted to learn baking but didn't know where to start? Well, you've come to the right place! Join our Baking workshops and let our professional bakers teach you hands-on baking in the most fun way!
At both our cafes in the heart of Amsterdam's Pijp / Jordaan neighbourhood, we offer many workshops that are sure to strike your fancy and your sweet tooth.
Popular workshops
Chocolate Babkas & Cinnamon Rolls with cream cheese frosting (3 hours)
Jerusalem bagels, Lebanese flatbread & Monkey bread (3 hours)
Challah bread with different braiding techniques & Chocolate Babka rolls
Alphabet/Number cookie cake with decorations & Brownie lava cake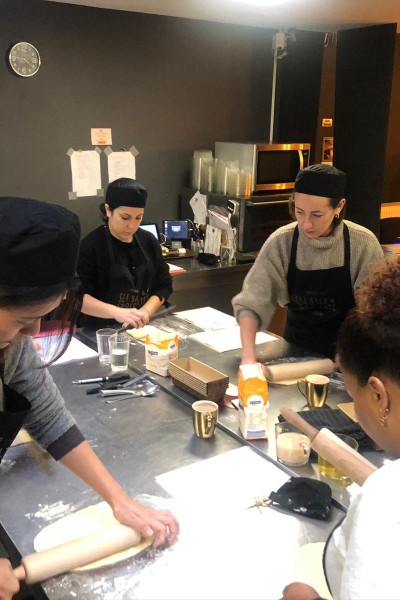 Company Events
Organize a fun team building event with your colleagues and get ready to get your hands dirty at our baking workshops! What's more fun when your Boss is doing the same ;-). Email us!
Private Groups
Would you like a group of like minded people or just a bunch of friends to get together and have a go at baking? We would be happy to organise a private workshop! (Minimum : 8 persons) Email us: info@seasaltandchocolate.nl
Gift Voucher
Surprise a friend with a fun baking workshop as a gift, or your partner with a Couple's gift voucher at a lesser price! Email us for details!